After successfully obtaining your ARN number upon passing the mutual fund exam, the next step is to join a Mutual Fund House. However, in order to start working with these fund houses and receive commissions, you must first undergo empanelment with them. Empanelment is a necessary process to establish a formal association and authorization to represent the fund house as a distributor or agent. Only after completing the empanelment procedure will you be eligible to earn commissions from your mutual fund activities with the respective fund houses.
How do I get empaneled with AMC?
The empanelment process is straightforward and hassle-free. The primary criterion is holding an ARN. To register with an AMC, you can visit the provided link containing a list of AMCs, which offers an online process to facilitate easy empanelment. Presently, this procedure is quite simple and convenient.
Right now, in the new online system, you mostly do not need documents, everything has to be confirmed on the OTP that will come on the mobile. All the details are uploaded to the registrar at the time of generation of ARN and EUIN.
Mutual Fund Online empanelment process
Before visiting the AMC website, keep the image of your ARN copy check with you. The process given below is almost the same for all AMCs. Some AMC may go back and forth, like by entering the otp received on your registered mobile, everything else will be auto updated.
When you go to the Empanelment page. So you have to enter your ARN number first.
You will see your details on the screen which you entered while creating ARN. If you want to do some correction then you can do it.
Enter the details of your bank and upload the scanned copy of your check in it. This will make it easier for your commission to come into your account.
You will get OTP on your mail and registered number. After entering the OTP in the system, your ARN number will go for the empanelment process.
After some time you will get the confirmation mail and courier of empanelment with AMC.
List of All Mutual Fund House Empanelment Links
You just have to fill up some of your details which you have given while generating ARN card like your ARN registration number, date of birth, name, email and mobile number etc. online. you are different from him
Aditya Birla Mutual Fund for Empanelment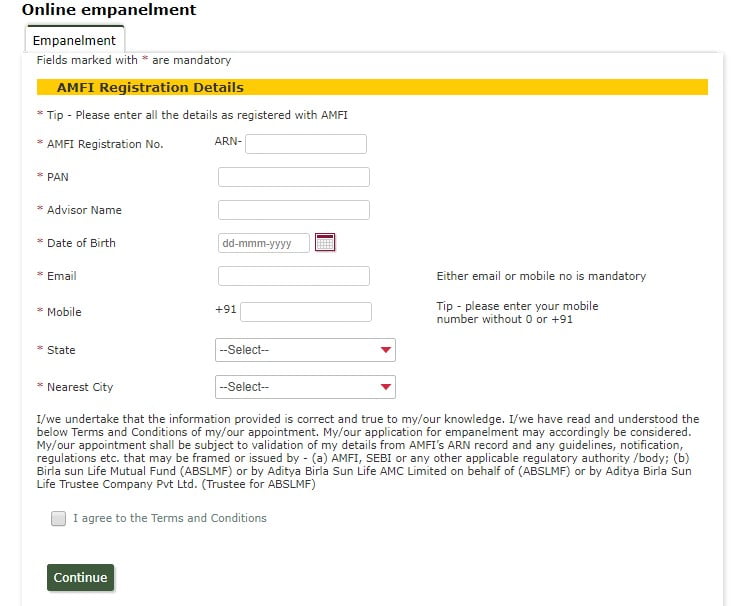 Axis Mutual Fund – Axis Connect
After visiting the website of Axis Mutual Fund, click on the Empanelment / Login button and type the ARN number.
You will get the OTP as soon as you enter your PAN number, email, mobile etc. details.
After you complete the further process, you will be associated with Axis Mutual Fund and will be able to sell their funds.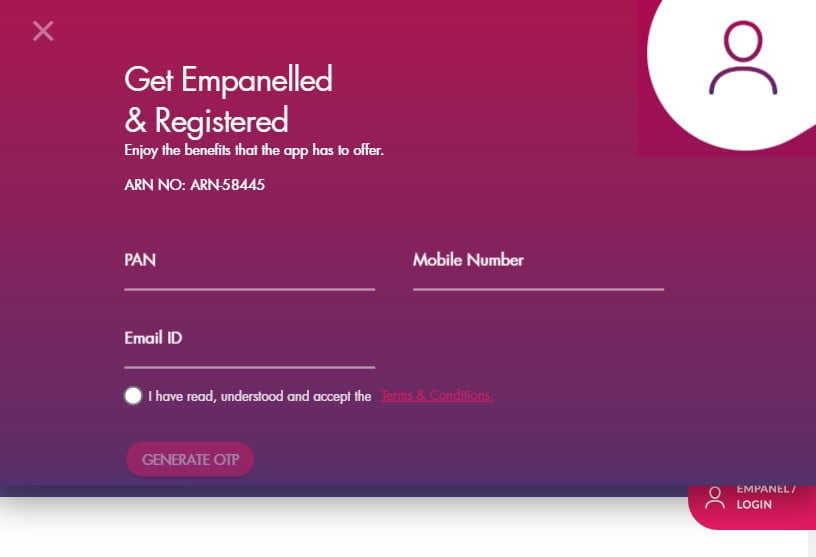 Baroda BNP Paribas Mutual Fund
If you can facing any problem. Empanelment Link
You can send email with the screen shot at ds.barodabnppmf@kfintech.com or can call at our toll free number 1800-2970-189.
Bandhan Mutual Fund
Bajaj Mutual Fund
Bank of India Mutual Fund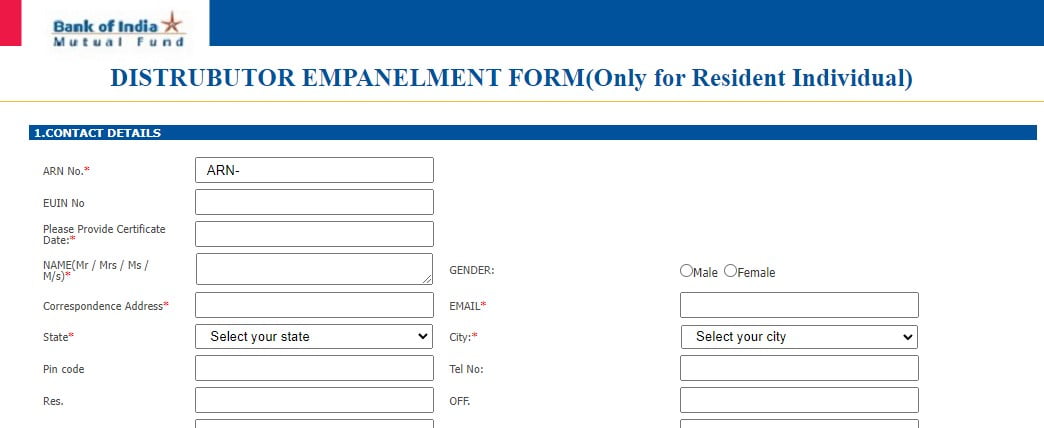 Canara Robeco Mutual Fund – SmartMFD
Canara Robeco Fund Empanelment Link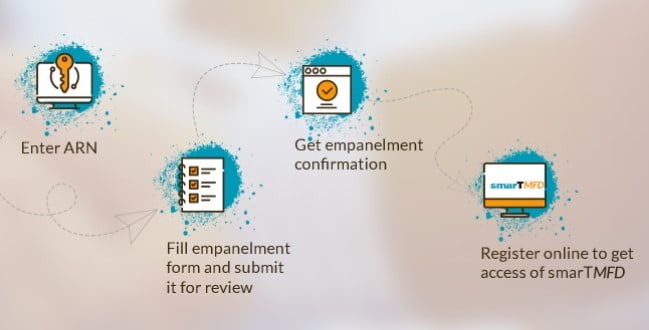 DSP Mutual Fund
Edelweiss Mutual Fund – Galaxy
Franklin Templeton India Mutual Fund –
HDFC Mutual Fund – MF Online Partners
ICICI Mutual Fund –
Invesco India Mutual Fund
Invesco India Empanelment Link
LIC Mutual Fund
Mirae Asset Mutual Fund
Mirae Asset MF Empanelment Link
Nippon India Mutual Fund – Business Easy
Nippon India MF Empanelment Link
PGIM Mutual Fund
PPFAS Mutual Fund
Quant Mutual Fund
SBI Mutual Fund
Tata Mutual Fund
UTI Mutual Fund –
Union Mutual Fund
Conclusion
All fund houses have developed websites and mobile apps for their distributors. You can use it for investor related work.
Empanelment process with an Asset Management Company (AMC) presents a seamless path to becoming a registered distributor or agent. The key requirement of holding an ARN makes it accessible for qualified individuals to join the mutual fund distribution industry. By following the online registration process provided by various AMCs, prospective distributors can easily embark on their journey towards a successful partnership. As the process remains user-friendly and efficient, it fosters a conducive environment for professionals to offer mutual fund products and services to their clients while earning commissions. Embracing this opportunity opens doors to a rewarding and fulfilling career in the mutual fund market.